Carole is pleased to announce that she has formal training as a Reiki practitioner.  She is able to give Reiki treatments to cats, and if appropriate, to their guardians.
Reiki is a healing practice that aids in balancing physical, mental and emotional well-being.  It usually consists of a "light touch" treatment that can bring rapid stress reduction and relief from pain and anxiety.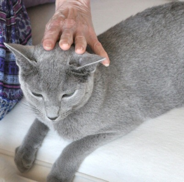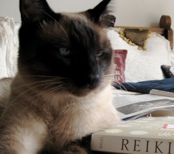 It is not always possible to have a "hands-on" Reiki treatment.  When it is not possible to use light touch because of distance or a cat who may not want to sit through the light touch, the hand-to-body connection is replaced with the mind. Learned symbols are used to do this.
Reiki is not a substitute for veterinary medicine, but can be a complement to it. Reiki supports healing before and after surgery and eases the side effects of medication, radiation and chemotherapy.
Carole also knows that Reiki can be a harmless, non-invasive aid in the prevention and treatment of agitation, aggression and grief.  It can be particularly comforting in end-of-life compassionate care. Carole is very pleased that she can include the treatment of Reiki in her cat practice to treat the "total cat".
Reiki Is A Healing Experience
Reiki enables me to offer my palliative (calming) hands to treat my patients and their guardians. The word Rei-the universal mind, higher intelligence, and ki-life-force energy, combine together to return the body to its entirety.  When there's stress or pain, the mind, body, and spirit are at dis-ease.  Reiki restores balance—ease.  When Reiki is administered early on, the response is greater.
I recently treated some cats at a fund-raising event.  One of the cats had recent pelvic surgery for a fracture.  I was so pleased when later one of the attendees told me:  "What a relieved expression on that cat's face as you treated her.  We watched her face soften as your hands went over her body."
I feel so very much gratitude that my helping hands can help others.  And they help me.
"Carole Wilbourn offers dual-species 'family therapy", says National Geographic. "If the cat's guardian is upset, quite often the cat will mirror the guardian's angst or confusion. So in my work to treat the 'total cat', it is essential for me to form a balanced rapport with both cat and guardian. As the blocks are removed, a cat feels better and the guardian does too. I always say a cat's actions reflect a cat's feelings."
LONG DISTANCE REIKI FOR MOONIE AND…
My Moonie was suffering with a nasty, lingering abscess when I accidentally walked into her in the dark. Imagine the trauma she suffered from that, not just physically. She bravely allowed the docs and me to administer to her, including an immediately effective chiropractic treatment that straightened out her injured tail. But one of the most important parts of her recovery was restoring her sense of calm, well-being and trust around me, her nurse, after I had injured her with my big boot! Carole Wilbourn's soothing Reiki treatments, administered remotely, over the phone, did the trick. After each session with Carole, Moon's fear and distrust healed more and more. My beloved companion snuggled and purred during the sessions and is now more affectionate and apparently appreciative of our bond than ever. The calm that she exhibited as a result of the Reiki sessions with Carole allowed her energy to go into healing her physical injury, rather than wearing her body down with anxiety. Moonie loves Reiki with Carole, as you can see from this photo. And I think I even got a "contact high" from those phone sessions! Thanks from both of us, Carole, and blessings.
Elsie Maio, Northport NY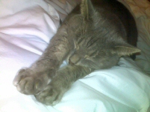 REIKI COMFORTS FLUFFY AND HER GUARDIAN
I  want to thank you for the distant Reiki session you gave Fluffy by phone. She was 19 years old and had been failing for months. She did not seem in distress but was somewhat listless — except at mealtimes. She still enjoyed eating, being brushed and petted. As you did her Reiki session over the phone, Fluffy listened quite attentively. She seemed to brighten up afterwards. I felt comforted to see her relax during her session and be more responsive following it. Some weeks later my Fluffy died of old age …….
C .G., NYC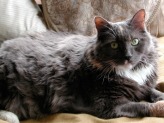 POST-OPERATIVE HEALING FOR DYLAN
Post-surgery at the hospital:
My seventeen-years-old cat, Dylan, had a cancerous tumor along with part of his lung removed. It was a major operation especially on such a geriatric cat. He was in the hospital recovering –  his torso wrapped in an enormous bandage, not moving or eating much.  Carole gave him a Reiki treatment.  I noticed a difference in Dylan right away. He began a happy purr, his face lightened, and he was more alert.  When I started to leave, after visiting him, he got up and tried to follow me – with three tubes and a large amount of pain medicine in him. The next day the vet called me to say that he got out of his cage, walked across the room and ate breakfast. The vet thought it was wonderful—me too.
Home from the hospital:
When Dylan came home a few days later, he was lethargic, not purring, not eating much and my other cat would not go near him. Carole did a Reiki treatment for Dylan, using mental symbols, over the phone. While Carole was on the phone Dylan started to purr.  Immediately after I hung up the phone, he got up, walked across the room, and my other cat, Joey, went over and licked him.
If I didn't see it – I wouldn't have believed it. Carole was amazing! Thanks Carole, for helping Dylan with his healing.
L.G., NYC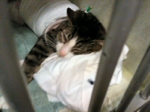 LOLA'S NOCTURNAL YOWLS DECREASE
My Lola is back to her old self — thanks to your distant Reiki treatment. No more nocturnal yowling. We had a quiet night. I was able to sleep. You told me her angst might be a reaction, a symptom to a recent difficult situation I had experienced. If I verbally assured her that I was okay, she would sense my confidence and her angst would slowly decline. You told me she had mirrored my discomfort and anxiety. So that's what I'm doing. Neptune, Lola's companion, is a rock of security and serenity. "Tell Lola, she's becoming so much like Neptune — so self-assured and calm," you said. So that's what I'm doing, and I even cancelled Lola's vet appointment. She's due for her annual next month, but if she has another episode, I will schedule her annual sooner — to rule out any medical problems. As for now, she's returned to her favorite perch.
E.L.,  NYC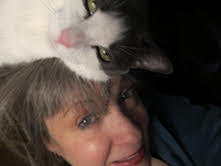 GRIEF THERAPY SESSION FOR SABRINA AND GUARDIAN

Sabrina was devastated when Sydney her companion passed on of cancer. Kathy, Sabrina's guardian, contacted me to make a home visit to evaluate her condition. She also sent me a photo of Sabrina asleep in a relaxed and stretched out position. That's how Sabrina used to sleep. But now she slept all curled up and didn't look as comfy and happy as before. I told Kathy that Sabrina's changed way of sleeping mirrored her tense, contracted feelings 'after' the loss of Sydney. This photo was a metaphor for how Sabrina felt 'before'.  She went on to tell me how Sabrina and Sydney always slept with her all night. Now Sabrina spent most of the night on the couch. " What I truly miss is Sabrina's hugs. She used to climb up and wrap her paws around my neck. No more!"
"Well Kathy, let me give you a Reiki chair treatment which will balance your mind, body and spirit as I do the light hand placements on your head, neck and shoulders. As you relax, Sabrina will feel the release."
As I lightly placed my hands on Kathy's head, Sabrina slowly approached us and scrambled up on Kathy's lap. And look what she did …. Yes, and she stayed there through the extended treatment and longer (I didn't want to interrupt their shared bliss). That's how I was able to record this breakthrough with my iPad.
Sabrina's progress report was a dazzler.  "She's back in my bed again, and she visited our neighbor," Kathy said.  "Carole, I didn't realize that I was holding on to my grief. Sabrina's session was a breakthrough for me."  I told Kathy that as she verbally let go of her grief and we appealed to Sabrina's five senses, we produced the sixth sense which is "love" and balance.
See the complete story here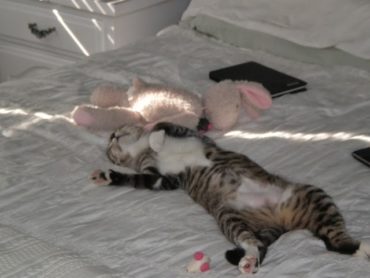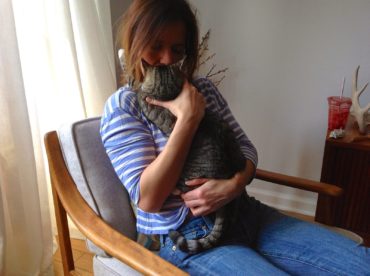 A QUICK RECOVERY FOR CAPTAIN'S BANDAGED , BRUISED PAWS
My dog Captain only had one bandaged paw two days after your Reiki treatment to the two of us. His other paws had healed. Every day now, I lift up his ear and whisper that he can never run away again. Your kindness and understanding really meant the world to me. The Reiki treatment was a healing for the two of us and helped us both tremendously.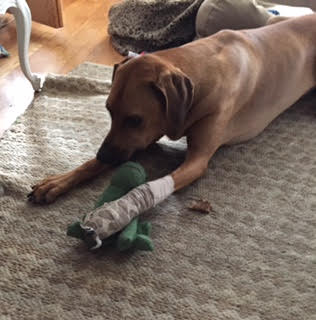 NON-SPECIFIC SENIOR MALAISE
Lucy, my matriarchal cat, recently celebrated her eighteenth birthday.  Although she wasn't sick or out of sorts, she was less affectionate and somewhat withdrawn.  I decided I wanted to do something special for her in her golden years.  I read about Carole on the internet and decided to have her come and give my Lucy a Reiki treatment.  Was I ever surprised and delighted when Lucy stretched out during her treatment and started to purr.  When her treatment was over, she climbed on to my lap and nuzzled my hands with her head.  I couldn't thank Carole enough for my Lucy's splendid response.
C.B., Long Island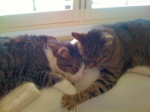 MY TWO CATS WERE AT ODDS WITH EACH OTHER
I love my two black cats and was very upset when they started to fight with each other.  They had always been the best of friends.  I decided to contact Carole so she could give a behavioral consult in person and a Reiki treatment.  Carole decided to give me the treatment.  She explained that my cats would also get the benefit.  At first my two cats sat and watched, but very slowly they moved in closer and rubbed against Carole's legs.  And the best part was when they curled up together and fell asleep as Carole continued my treatment.  Thanks to Carole all is well, and she gave me some great advice on what I should do when I get upset or stressed to keep my guys from mirroring my angst.
W.B., New Jersey