Carole has satisfied clients across the United States, and around the world.
The following are a few of the thousands of grateful messages she has received from her clients.
Wilbourn Way Introductions

New Baby Malaise

Inter-Cat Hostility

Indiscriminate Urination/Defecation

Destructive Behavior
Introductions The Wilbourn Way
"My cat was always so hostile to other cats, I never thought he'd accept a new kitten. But, with Carole's introduction technique, he bonded with the newcomer in a week." ~ J.K., New York City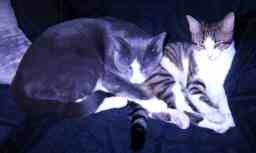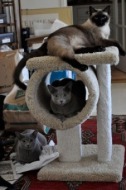 "I was able to successfully introduce a 1 year old shelter female cat, who wasn't considered adoptable, last April because of all I learned from you. By following your introduction rules, I had no trouble whatsoever." ~ N.L., Boston, MA
"I'm thrilled. The attached photo says it all. Your session with my guys and me was the tonic Xena needed. You mentioned when you were here that it was important for us to concentrate on Xena if we wanted her to accept Desi into her catdom. Today she groomed his tail, and they're an item. So in ten days I'll have two cats to hug. They've been together for less than two weeks. Thank you, Carole. The Wilbourn Way works!" ~ Kate, New York City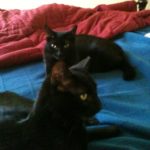 "Thanks for helping Benny become a true member of our family." ~ S.P.F., New York City
New Baby Malaise
"Theo went into a depression when my baby arrived. Thanks to The Wilbourn Way, she's her old playful self and is even fascinated by the baby." ~ L.S., New York City

Inter-Cat Hostility
"Rapunzel, my apricot hued Maine Coon, and her companion, Munchkin, a rescued domestic tabby brown shorthair, were best of pals for many years until Rapunzel was diagnosed with a Thyroid condition. I opted for radiation treatment, sending her to the hospital for over two weeks. In her absence, Munchkin elevated herself to top-cat status, which, upon Punzy's return, she was reluctant to relinquish - causing awful fights between the two which occasionally resulted in blood flow and caused me utter frustration. My small apartment was not dividable and the tense situation continued for several months. Then, I learned about Carole Wilbourn, who, within a few weeks, was able to return these two former pals to a loving relationship. Thanks Carole." ~ Karen, New Hampshire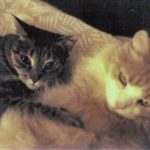 Dear Carole: You did more for my cats than all the vets, behaviorists and cat psychics combined. Your work with my girls helped transform an incredibly difficult circumstance back to one that is happy and normal. I'd about given up hope and never thought my two girls would be friends again. I never knew what a cat therapist was, but you've shown me it's someone who is caring, consistent, creative, and knowledgeable. The vet followed your suggestions since he quickly ran out of his own. I so appreciate how many times you checked in with us to see how things were going. With your help, it seems to have turned around. Once again, bedtime is-- the three of us sleeping together, instead of a lock-out for one of my cats. I so appreciate you for the unique being you are, and your wonderful skills. Thank you, Lorrie, CA.
Indiscriminate Urination/Defecation
"Zorro had an ongoing problem of peeing outside his litter box, often on the bed or on rugs. You suggested using piddle pads in a litter box. Well, what I ended up doing is putting one pad on the bedroom floor and it has worked fantastically. He pees on the pad, we throw it out and put a clean one down. He hasn't peed on the bed since. I never would have thought of pads - I thought only dogs used them. Thank you very much for the suggestion." ~ K. R., New York, NY
"Cassilda (a shelter rescue cat).was urinating everywhere BUT the litter box, and had started to defecate on the bed. I started to play her tape for her every day, and after a few days noticed that she had begun listening intently, and would relax & often lay down near the stereo. Within a month she had totally stopped all elimination problems... there are forces I may not understand, but that I cannot doubt. I firmly believe that your intervention (and the recording) contributed enormously to a happy, secure 8 years for my baby!!!" ~ H.P., Tucson, Arizona
"After three years, our cat - for what seemed like no reason at all - just stopped using the litter box. Carole's house call was a revelation!" ~ P.R., Washington, D.C.
"Since Angel's session with Carole, there's been a miraculous correction in his behavior. No more urinating on the carpet! He and brother Spike always liked to hang out on the bed or the carpet, and now they can without any incidents." ~ A.B., Forest Hills, New York
HOLLY NO LONGER ACTS OUT FRUSTRATIONS WITH LITTER BOX LAPSES
"All is well. Holly is litter box happy again. Thank you for your guidance. ~ C.D., New York City
Scroll through September Blog to Litter Box Tribulations for these stories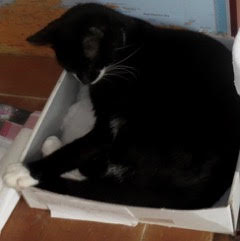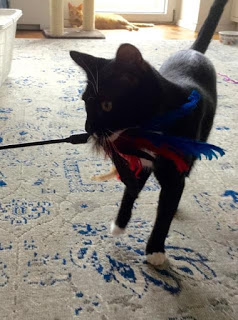 WEE-WEE PAD OVERLOAD. OBNOXIOUS ODOR!!
"As I type, Oscar is asleep in his box as he listens to the music you sent us. We are very excited. Your solution to place the wee-wee pads directly in his preferred litter box has been a fave. ~ J.M., Orland Park, IL
Listen and Re-learn
"Years after our sessions with Carole, we continue enjoying their beneficial effects by re-playing for our cats, audio recordings of Carole's sessions with them. These audios have proven to be for us an important part of the Wilbourn Program of continuous behavior reinforcement." ~ E.M., Santa Fe, New Mexico Hills, New York
Matching Your Cat's "Catsonality"
"Carole is incredibly insightful and sensitive. With her advice, we were able to pick out a dog with just the right temperament for our cat." ~ M.M., Anchorage, Alaska
Destructive Behavior
"Our cats no longer wreak havoc with our sofa and drapes. The Wilbourn Way really worked with them. And it was so simple." ~ V.N., Lake Charles, Louisiana
Obsessive-Compulsive Grooming (alopecia nervosa)
"For no apparent reason, Cisco began pulling out his fur and licking bloody sores into his skin. For a year, he suffered (and so did we) while we tried various approaches, treatments and medications. In one visit, Carole divined why Cisco was harming himself and what was needed, and then helped us implement the cure. Cisco doesn't mutilate himself any more. He's happy now, and so are we. Thanks a million, Carole!" ~ L.C-J., New York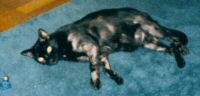 "Adding a third cat was rough on Pooky. In frustration, he groomed obsessively. Thanks to the advice in "Cat Talk - What Your Cat Is Trying to Tell You" (Chapter 12 - Relationships) he is much calmer - and furrier! Thanks so much for a wonderful and useful book! ~ B.K., NY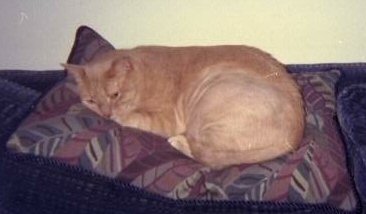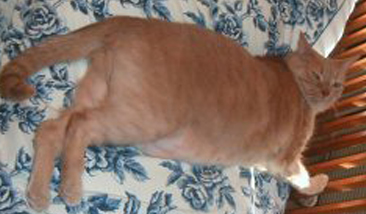 The Timidity Complex
"Angel's session was actually group therapy. His brother, Spike, who was always very timid, has become much more relaxed. He was always very affectionate. Now he can show it." ~ A.B., Forest Hills, New York
"Our cat Monte was the phantom cat to our friends and any visitors. Now, he even makes guest appearances at our parties and is much more interactive with his companion cat Lola. His sessions with Carole changed his life, and ours." ~ C.C.B.
Pre-marriage cat-phobic spouse
We found out about you from our pre-marriage counselor whom we'd consulted to prevent problems. We ended up talking about our cat, and he directed us to you. We ended up a very happy family with your expert advice — for my wife who was a little cat-phobic. She became an over the top ailurophile. ~ S.R., Center Island, L.I.
From feuding cats to fast friends
Your session with our cats was the best return on our money. They buried their catastrophic ways and became each other's best bud. ~ C.D., Detroit, MI
You restored Shady's dignity with end-of-life compassionate care
Unfortunately, Shady's cancer has returned, and there are no more medical options. He'd been doing very well, no more litter box issues. He was back to his usual Shady self — when he suddenly developed a terrible cough. I will do all that I can to make Shady comfortable until he's ready to go. No heroics. I appreciate all you did to help me through Shady's readjustments after his cancer treatment this summer. It made a world of difference that restored his dignity and got him on track to being a much happier cat. ~ T.H., NYC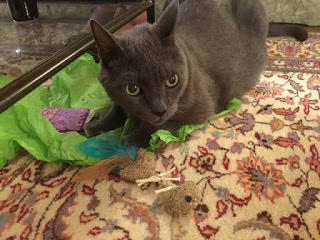 Happiness enhanced and lengthened our cat's years
En route home to Alaska, we met you at the Algonquin Hotel for a consult about how to make our cat happy. This consult was a high point of our ten day Manhattan sojourn. Your book "Cat Talk" was included in the session, we met the Algonquin resident cat, and some of the cat tips you gave us made us smile. We were sure our cat would too, and he did until 20 years old — when he reached the end in his sleep. ~ R.T., Fairbanks, Alaska
Moving to Maui
We were able to move to our new home in Maui with confidence that our middle-aged cat, Pokane, would eventually befriend the street tom cat we took along, We had him neutered a couple of weeks before we moved, followed all of your recommendations, and slowly but steadily Pokane accepted him. He definitely became her Prince Charming. The Wilbourn Way is a winner! ~ C.R., Maui, HI
Our Geriatric Cats
13-YEAR-OLD MERCI MOVES IN WITH 13-YEAR-OLD SAM Our Sam was not happy when Merci moved in. Carole was our last resort for a truce and acceptance. She gave us a behavioral plan, along with music and a Reiki treatment — referred to it as The Wilbourn Way. We were stunned and happy with the the immediate change in the two cats during our two phone consults with Carole. They calmed down immediately — what seemed like minutes. We are so pleased that we made the right decision and now Sam and Merci have each other for the rest of their golden years. ~ L.D., Jackson Heights, NY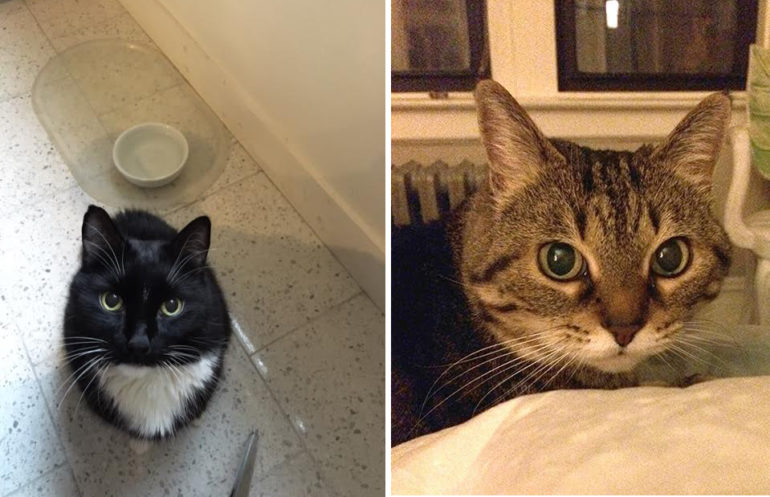 No more ruined couches; litter box issues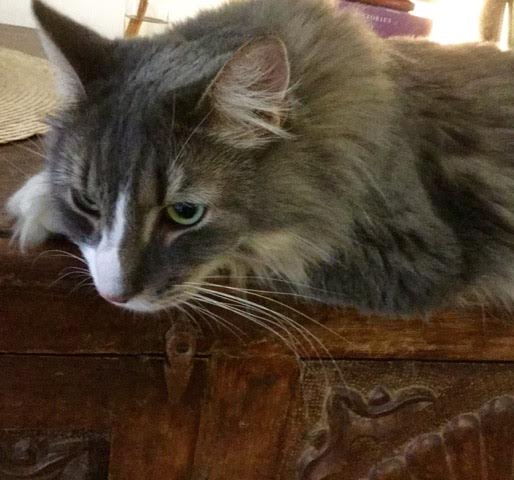 Nine days after Com Com's session: I want to thank you for guiding me to understand Com Com's character. He is such a sensitive, intelligent cat. I've become more sensitive to his needs. Since you were here he has consistently used his litter box, which is now in the bathtub. He only had to be sequestered for a couple of nights. I now realize that as long as we appreciate Com Com and are sensitive to his needs, he will feel better, slowly recover from his PTSD and won't have the need to display such un-catlike behavior. ~ N.L., NYC
Yayo's Puddles Were The Link To His Diarrhea and Emotional Angst
I'm so glad I consulted. Thanks to you, Yayo is a happier and healthier cat. His puddles were his telltale communication or symptomatic behavior that led to the solution of his primary problem. I changed his food, as you recommended, and the vet did some blood tests. Turns out that when he was a kitten with giardia, I received a false positive that the giardia had gone away, when In fact it hadn't. So it has been three years of diarrhea. But now the vet re-started Yayo on medication for the parasite which will be continued until the giarda has vanished for good. Yayo's been coming on the bed again, and even all three of the cats have been coming on the bed together and sleeping in the same area. Although Yayo is blind in one eye, he is no longer blind to physical and emotional well being. We all thank you for this long overdue catnip. ~ M.S., Brooklyn, N.Y.
RESOLVED! Attack Cat Behavior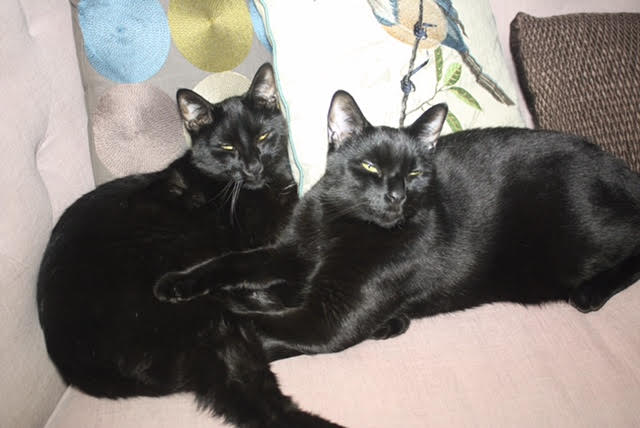 When George attacked me as I tried to get Henry into his carrier to go to the vet I was frightened and stunned. Although, George was okay when Henry and I first returned from the vet, he later nipped my face and cornered Henry. Things with George and Henry have been great since their session with you. We've been playing the recording, making sure we announce our intentions (we are going to another room, sitting down, standing up etc.) so we don't rattle them, as well as really working on making sure we talk about both of them, even if we are actually only interacting with one. We usually say, "and you too George" or "right Henry". They have been calm, happy, appropriately playful and overall very sweet. Neither one is a lap cat but on Monday night I was able to get Henry to sit between Ted and me on the couch as we watched TV! It was so sweet and amazing. George was off taking a nap under the bed which is his usual habit after dinner so no rivalry either! And, yes, we did mention him as we know a cat is always aware even if asleep. Thank you again for your guidance and advice and we will continue to implement your recommendations. ~ K.V., NYC
Buddy no longer acts out his frustrations with aggressive behavior towards me. All is well. My relationship with Buddy is totally in the comfort zone. Thank you for your guidance. ~ C.D., NYC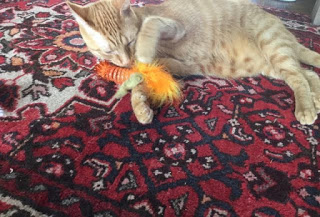 Carole Has Saved My Cats' Lives So Many Times
Oreo and Tigger are two of my three cats. Tigger, the gray tiger has three legs. He had been abandoned at a shelter where we adopted him. I have known Carole Wilbourn for over 20 years, she has saved my cats' lives so many times by showing me how I can understand each one more and what to do from preventing 5hem from acting out or fighting! She really knows her stuff so if you have a problem with your cat or cats please call her! ~ R,Z., NYC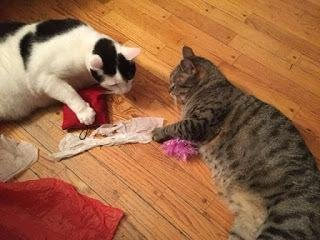 Snowball Rejects Jack -- Feline Recognition Crisis
When my cat, Jack, slipped out of my house and didn't return until a few months later, his companion, Snow Ball rejected him, plus I had adopted Gordon, another cat, to keep Snow Ball happy. As my cats accompanied me in my truck when I worked, this was a real catastrophe, but Carole came to our rescue. Take a look at Snow Ball and Jack in my Cascadia, 18 wheeler, big rig. I never thought I'd see this again. ~ W.M., Dallas, TX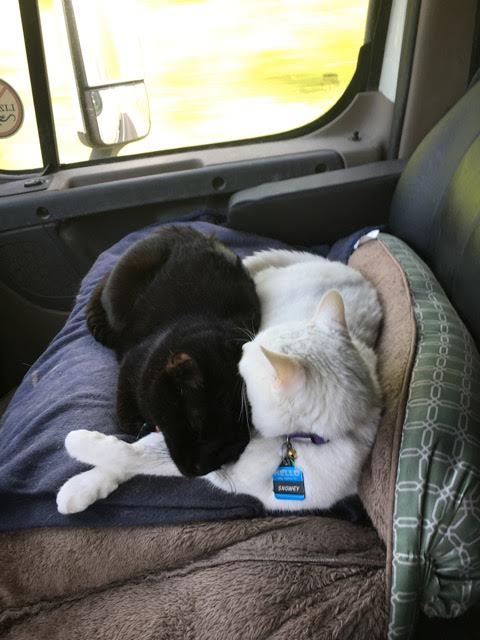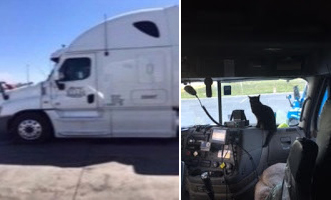 Cascadia that my cats co-pilot
Our 10-year-old is a changed cat
Thanks to Carole's therapy sessions, our ten year old Monkee is a changed cat. We've been using Carole's tips and training to help Monkee become less aggressive towards our two year old daughter. When our older cat Bear recently passed away, we noticed additional changes in Monkee. He has really blossomed into a new cat, reinvented himself and even taken on some of Bear's old traits of sleeping next to us at night, meeting us at the door and becoming buddies with our daughter. We're delighted and feel grateful for this holiday blessing. The Wilbourn Way continues to give Monkee the confidence and motivation to become an even happier member of our family. It was our vet, Dr. Landefeld, who recommended Carole to us. What a gift! ~ N.V., NYC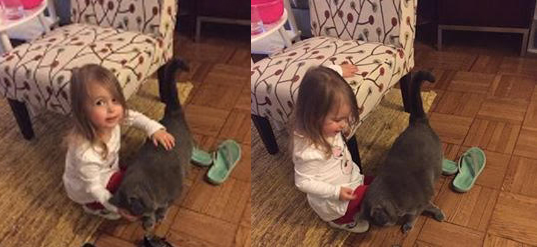 Pusein beats up Felix after she returns from the vet (Post Vet Angst)
This was yesterday -- you explained that when Pusein returned from the vet Felix was a bit undone because she smelled like an alien; hospital scents. Sensing Felix's reaction, Pusein became threatened and frightened and Felix became the enemy, her tension target. She threw herself at Felix as soon as she stepped out of the carrier and was relentless with her terror attacks. Today, peace reigns here!! You really know what you're doing! NO fighting at all!! Both hanging out together in the living room. And no howling in the night! Thank you, ~ C.K., MA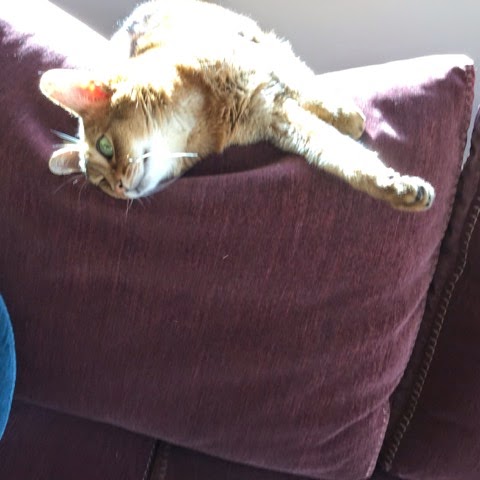 Feral Cats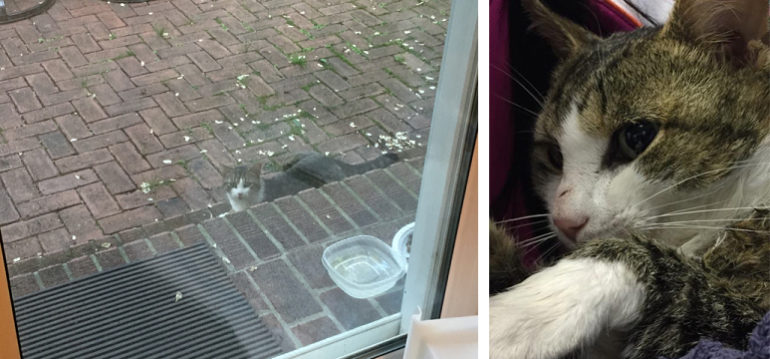 Merlin before & Merlin after
Our Feral Cat is Re-inventing Himself! We thank you for helping us with Merlin, a feral cat that we rescued from the street. Before we had the consult with you, Merlin stayed under the bathroom vanity, mostly avoided the litter box, and yowled. You told us that since he was only recently neutered, he was still a tom cat. It would take a couple of weeks for his hormonal level to lower. Gradually, he would instinctively be on point with his litter box. The music you recommended as his security object soothes him. Yesterday he started to yowl, and we realized the music had stopped. We turned it on, and he relaxed. Soon after, he used the litter box. You explained it was a process that would take time and to think of Merlin as a "recovering feral". It all makes sense, and it is such a gift to experience and share his acceptance of our friendship as his fear and angst slowly vanish. Gratitude for your expertise and stabilizing energy. ~ J.G., Manhasset, Long Island
Paint Is Now On Point With The Litterbox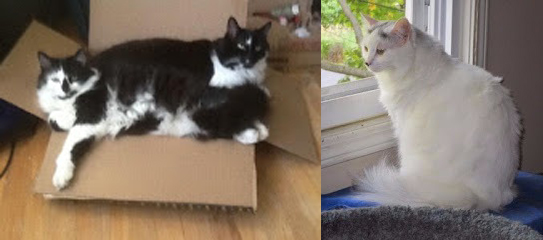 Paint and his litter mates: Gem and Snow
Thanks to The Wilbourn Way, I was able to provide the communication and other techniques that enabled me to connect with Paint and his litter mates. I will continue with this winning combination as my cats and I continue to evolve together. ~ D.J., CT